Your Horse Racing Jargon Guide for the Melbourne Cup
Don't get caught out on Melbourne Cup race day because you don't understand the jargon. Learn how to talk the talk by following this easy guide.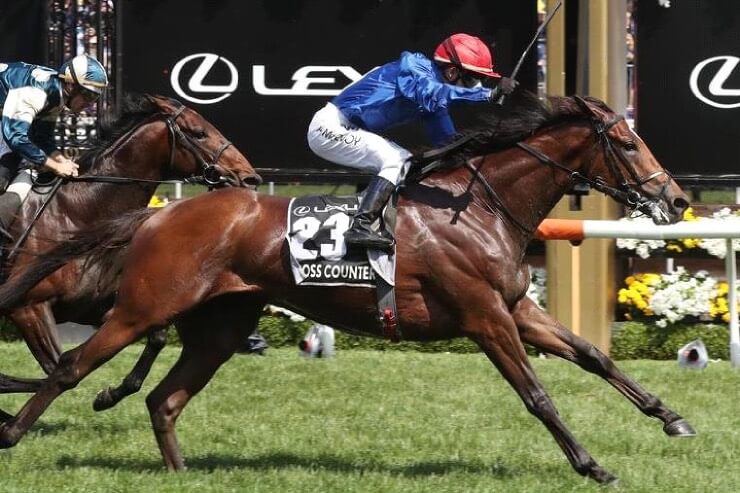 Also Ran – This is a horse that finishes out of the money.
Backed Off the Map – A racehorse that's heavily backed, usually in a short space of time.
Barriers – The race starting gates or stalls.
Birdcage – An area where the horses are proudly paraded around before the race.
Blinkers – A hood to restrict the horse's field of vision so it doesn't get distracted.
Bolted – When a horse bolts ahead of the pack out of the gate, or races away to win the race by many lengths.
Bookie – The bookmaker who takes your bets.
Checked – A horse gets interference on the track.
Class – This is grade or standard of the race.
Colt – A non-gelded male horse under the age of three.
Connections – This refers to the team surrounding the horse; including owners, trainer, jockey and other representatives involved with the horse.
Correct Weight – Once a race has been run, after everything has been checked and verified, the result becomes official and winnings can be paid out.
Daily Double – A betting option where you need to pick the winners in two select races.
Dead Heat – This occurs when two horses are tied at the finish line and can't be split in a photo finish.
Derby – A stakes race day for 3 year olds only.
Each Way – Cover your bet by placing equal money on a horse for a win or a place.
Extended – The jockey has the horse running at top speed.
Farrier – A blacksmith who specialises in horse's hooves.
Favourite – This is the horse with the most bets placed on it and therefore has the shortest odds.
Feature Race
– This is the main race on the day's calendar. Usually the feature race will have the most prize money on offer, such as the
Melbourne Cup
.
Field – All the horses in a given race.
Filly – Like a colt, this is a female horse 3 years old or less.
Front Runner – This horse likes to lead from the front for as long as possible.
Furlong – A horse racing unit of measurement equivalent to about 200 metres.
Grew Another Leg – A floundering horse suddenly gets a second wind and makes a comeback.
Heavy Track – A slow, muddy and rain affected track.
Hoop – Slang term for a jockey.
In the Money – The horse placed in the race and won prize money.
Lame – This simply means a horse has an injury and is physically encumbered.
Late Mail – Late tips about scratchings and track conditions.
Long Shot – Big odds on a horse not given a chance of winning.
Maiden – This horse has never won a race.
Mudlark – A racehorse that loves racing on wet, muddy tracks.
Mug Punter – If you're one of these, it means you suck at betting on horses.
Nose – Smallest measure between horses, as in "won by a nose".
Protest – After a race is run, a complaint is lodged with the stewards that could affect the race's outcome.
Punter – A person who bets on races.
Runner – A slang term for racehorses.
Silks – This is the uniform the jockeys wear.
Sprint Race – Short distance race of no more than 1200 metres.
Stallion – A virile male horse reserved for breeding and not racing.
Stayers – These horses are not sprinters, but excel at long distance races.
Stewards – These are the racing officials. They are responsible for ensuring everybody follows the racing rules.
Strapper – An employee who basically grooms and looks after a horse daily.
Stone Motherless – This horse finishes last.
Swooper – This horse comes home with a surge, from the tail, up the outside and overtakes the other horses.
Trifecta – Picking the first 3 place getters in the right order.
Unders – This horse's odds are too low in comparison to its chances of victory.
Well Held – A horse that wins easily without really having to extend itself throughout the race.
Write Your Own Ticket – The chances of this horse winning are so remote that a bookie will give you any odds you want.
Yearling – A horse around a year or two old.