3 Types of Designer Work Bags to Carry You to Success in 2022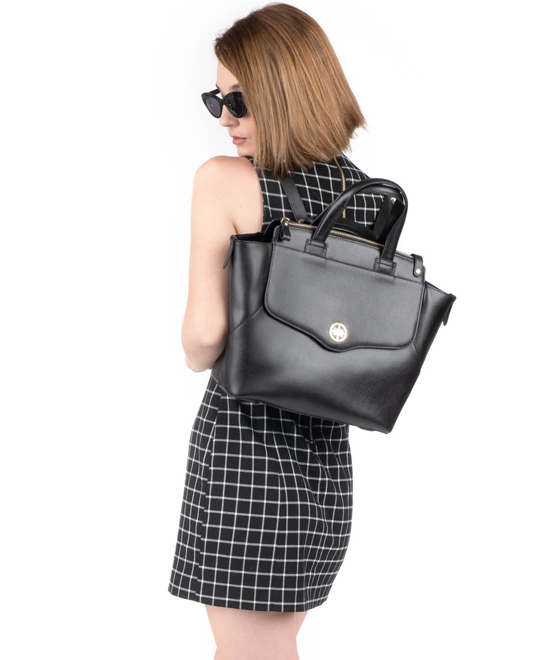 Your work life is about to get a lot smoother with the right bag in your clutches. The best bags for working women can handle busy lifestyles like the pro you are, are crafted with the finest materials, and are super chic yet effortless. Your designer work bag of choice is part fashion, part function, and all business. From work satchels to convertible backpack totes to elevated duffle bags, you'll discover what will work best for you below. It's up to you to decide what your daily must-haves entail and what style represents you best.
Premium Work Satchel
You never have to compromise on style or functionality with a premium Italian leather satchel that works as hard as you do in your daily life. Choose a modern work satchel that's not only practical but seamlessly accompanies your lifestyle—and your outfits. This is the bag that literally goes with everything you wear and often starts conversations. The organizational features of your bag need to meet your standards and are perhaps the most important aspect of it.
On-Point Organization
A spacious interior and thoughtful design of a work bag for women signify that organization is a top priority. Consider whether you want your work satchel (or purse for work) to hold a tablet, 13-inch laptop, or 16-inch laptop. Different bag sizes are available depending on your particular needs. In addition to a laptop sleeve, the bags may also include other essential features, such as a phone pocket, detachable key strap, pen and lipstick holder, credit card slots, and a zippered exterior pocket. Everything seems just a little easier when you can access your items without a lot of fuss.
Refined Style
A gorgeous work satchel means that every stitch and seam of the bag is made to look good. And that makes sense because it needs to match a woman's strong, sophisticated, and stylish lifestyle. If the work bag is made with sustainably manufactured Italian leather, it should also offer scratch and weather-resistant designs. The bag's interior may offer a checkered lining for increased visibility, so you aren't digging around for something in darkness. Your work satchel may also come with an adjustable, removable cross-body strap with a shoulder pad for those times you're in a hustle.
Convertible Backpack Tote
City commuters need the ultimate in comfort without sacrificing style. A
convertible backpack tote
is the work bag you'll be proud to wear on your back or tote around by the handles. A well-designed convertible backpack tote looks sleek and sophisticated in fine Italian materials. Cruise through the city like the boss you are with a dependable bag to accommodate your everyday needs.
Functional Comfort
When you want to distribute the weight of your bag more evenly, you can wear your work bag as a backpack. One shoulder doesn't have to carry the entire load this way. Your Italian full grain leather tote may have a single leather shoulder strap that can transform into two backpack straps in one easy pull. When you want to carry your work bag as an elegant tote, you can tuck the strap away. You can find a convertible backpack tote in Italian full grain leather or top-grade Italian nylon, depending on your aesthetic and needs. Both are premium materials, long-lasting, and resistant to weather and water.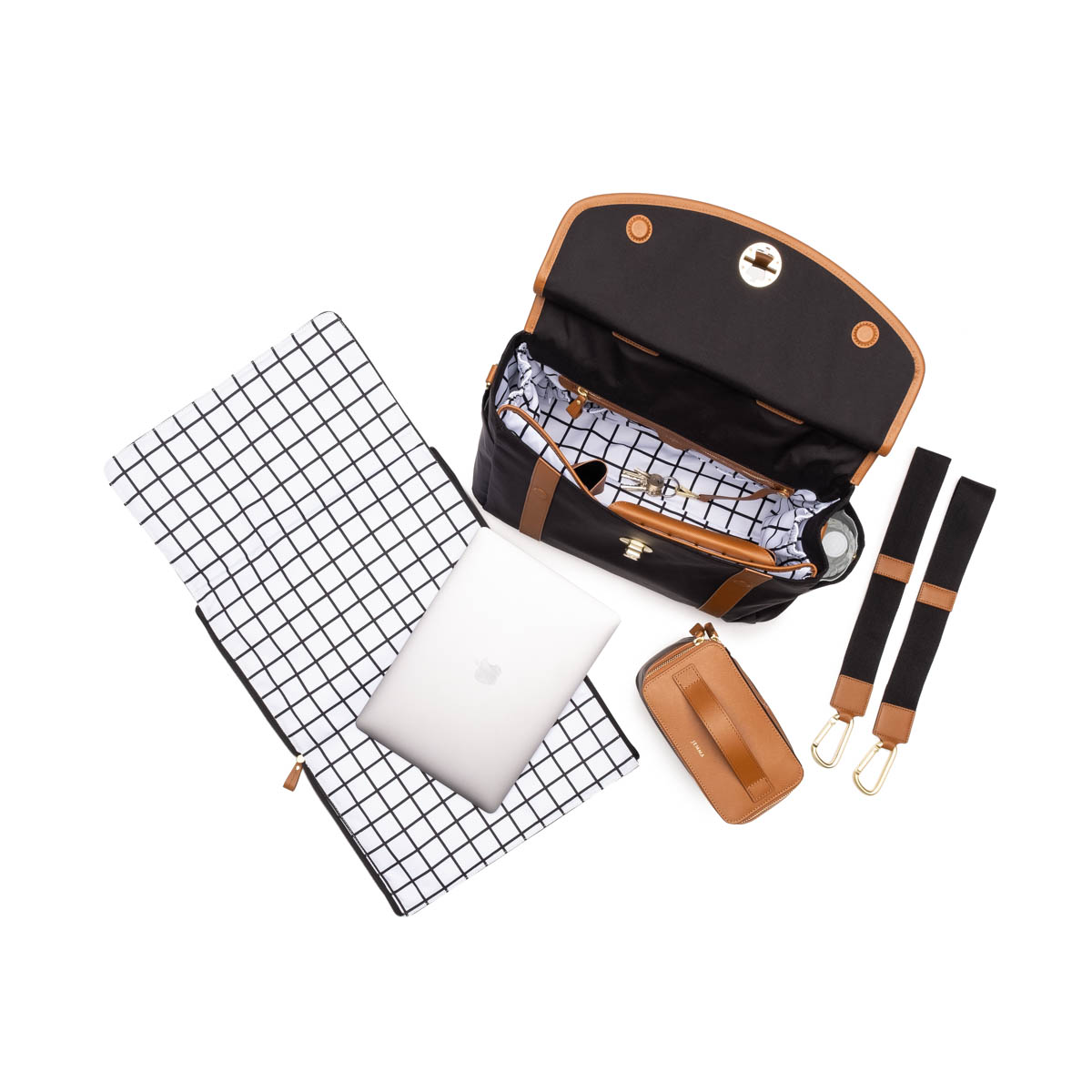 Functional Features
Everything should have its proper place in your backpack tote, from your laptop to keys. The contents of your bag should not be jostling around as you sidestep puddles. You'll feel prepared to take on whatever the world throws at you with your convertible backpack tote. The straps on your bag should be comfortable, padded, and reinforced to handle the weight of the bag's contents. Some of the best designer bags also include a matching insulated lunch bag and insulated exterior side pockets for water bottles or other bottled beverages. Doesn't everyone need a sharp, functional backpack tote in their lives?
Elevated Duffle
If you consider your vibe to be more "distinguished leisure," maybe your work bag of choice is an elevated duffle style or traveler bag. You need a bag that's designed to beat the clock and acts as a stylish workhorse for your busy, modern life. Get ready to seize the day, night, and weekends with your perfect do-it-all duffle bag.
Thoughtful Compartments
For those constantly on the go, you may need a bag that can take you from work to the gym to weekend adventures. You'll need to be able to locate everything quickly in places that make sense. Your duffle bag won't be an empty or chaotic space. It needs interior compartments to store things like your phone, wallet, keys, laptop, and water bottle. The best designs may also have a separate ventilated shoe compartment that can hold one to three pairs, depending on how big the bag is. Some duffles may even come with a matching cosmetic or toiletry case and washable laundry bag. Look for a duffle with a luggage sleeve at the back that doubles as an easy access back pocket, so you have one less thing to juggle.
Elegant Style and Colorways
The exterior of your duffle bag may be constructed with something like top-grade, water-resistant Italian nylon. You'll be able to wipe this material down with a sanitary wipe when need be. Enjoy your duffle in an eye-catching color that makes for a vibrant carryall. Crimson red, hunter green, or oxford blue are classic, timeless colors. The duffle bag you choose may be trimmed in leather and adorned with gold hardware. New duffle styles look just as good at the gym as they do at work, so you don't have to worry about bringing one bag with you everywhere you go.
Designer work bags are a worthy investment just for the fact that you use them more than any other accessory you own. Get ready to own 2022 with a new bag at your side. You may even find that you need a few solutions to meet your various needs. You'll have to compare different bag styles before deciding. Modern women appreciate a blend of practicality, style, and quality. As a visible part of your daily life, you want a bag that feels empowering and does everything you expect and need it to do.
About JEMMA
JEMMA is the iconic work bag brand that designs its pieces with functionality and fashion at the forefront. Featuring innovative details that provide easy organization, these bags are crafted to make your life easier without sacrificing style. With bags from JEMMA, you can enjoy reinforced, convertible straps and accessories like a detachable clutch, cosmetic bag, and insulated lunch bag, to name a few. These bags are crafted with durable, long-lasting materials like genuine Italian leather and Italian nylon that are sustainably and ethically produced, including the convertible backpack tote options. These luxury bags are perfect for the modern woman, a working mom on the go, and anyone commuting all over the city. Whether it's work, travel, or leisure, you'll want this bag by your side. Check Stride Wise to know more about the
best leather bags
and reviews.
Get your next beautiful designer work bag from JEMMA at
Jemmabag.com