Top Tips for Motivating Your Man to Dress Better in 2023 and Beyond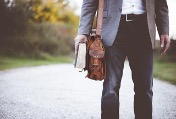 Are you tired of seeing your husband, partner, or boyfriend in the same tired
jeans
and t-shirt daily and wishing he'd change things up a little and dress to impress? If so, it's worth considering ways to motivate him to mix up his style in 2023.
It can be challenging to broach the subject carefully and not make him feel upset or self-conscious, but you can subtly encourage the man in your life to shop for some new clothes and update his wardrobe. Read on for some ideas to help your guy update his fashion sense today.
Help Him Notice Fashionable Looks
Start by helping your partner to notice fashionable looks around him. When you're out and out, point out those wearing cool clothes or simply look well put together. The same goes for showcasing style in magazines, blogs, books, and on the screen when watching TV shows, movies, etc.
Many guys don't know much about fashion, so they don't update their looks in turn. If you help him start to learn what works and what doesn't and praise the outfits of guys you see around, that is sure to encourage him to lift his game.
Shop with Him
A simple yet effective way to assist your loved one in upgrading their look is to take them shopping. Ask your man to set aside time to check out some new looks. If he's not a fan of in-person shopping, remember that online shopping is convenient, easy, and affordable these days, too. Get a few good sites up on your computer and ask him to come and take a look to see what he thinks of their stock.
You can encourage him to invest in a few new looks by guiding him to outfits from eCommerce sites that offer free shipping and returns, so he doesn't have to pay to try new potential wardrobe items from the comfort of home. Assist him in bookmarking some excellent stores offering
men's shoes and apparel
, among other things, and he might return to them in the future of his own accord to make new purchases.
If you're still struggling to get him to shop, look for ways to make the excursion more fun. For example, reframe it as a date. Combine it with brunch or lunch at his favorite restaurant, do a little shopping, and then head to see a movie he's been keen to watch or go for a hike, to the rock-climbing gym, or to play video games; whatever he likes. Then, you might ask him to wear some of his new clothes out when you go to dinner or the club that night, because he looks great and you want to show him off.
Shopping together and reframing the day this way can change your guy's perceptions of the effort involved in dressing better. It can be a fun activity together, and you can gently guide him towards styles you particularly like and think would look good on him.
Gift Him Some New Clothes
You might also like to help your beloved dress better by gifting him some clothing and accessories. For instance, you could purchase him an elegant pair of new shoes for his birthday, a cool coat and shirt for Christmas, and some well-made jeans for Valentine's Day. Think about other occasions, too, where you can update his closet via presents, such as for your anniversary or as a celebration when he lands a new job or has some other noteworthy achievement.
Educate Your Man about the Benefits of Tailoring
You might have a tailor on speed dial so that your outfits always look as stylish as possible, but it's likely your man may not be so up on the benefits of altering clothing. As such, help him out by teaching him what a difference good
tailoring
can make to a look. If you notice he has multiple items in his wardrobe that don't fit him properly, encourage him to take them to a tailor so the garments show off his gorgeous physique better.
You might help him find a men's tailor or take him to where you get your goods fixed up. Once he sees the difference with his own eyes, he's sure to want to opt for the right fit with all his looks in the future.
Other tips to motivate your partner to dress better are to go through his closet with him and help him get rid of clothes that are outdated or don't fit so he can see where gaps for new styles are, and lead by example. If he sees you dressing up and making an effort to look good for him, he's more likely to do the same for you.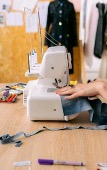 Plus, always be positive and encouraging, and try to start small to avoid overwhelming your guy. Praise him when he dresses well and puts in more effort, and don't pressure him to wear things he's really uncomfortable in.
By approaching the subject in a supportive and collaborative way, you'll soon find that the significant other in your life has boosted his look to a whole new level.