Infuse love words into your wedding like Love you to the moon and back LED Neon Sign
Infuse love words into your wedding like Love you to the moon and back LED Neon Sign
Express your deep affection for that person using our Love you to the moon and back wedding neon sign. Tell the world and especially that person how much you love them. It's really a sophisticated way to express your love, and it's also special as well. For people who find it hard to formulate love words, neon signs are a great way to describe your feelings, while saving you from the intense heartbeat and blushing face. Plus, using a neon sign to show love is such a unique and different way that your partner will jump with joy upon receiving this adorable gift.
Neon sign wedding
quotes are a useful accent decor that's also symbolic and meaningful. You get to add meaning to your big day in a very eye-catching and elegant way. This sign is made from robust quality, clear acrylic backboard, together with LED neon strips mounted on the board. These strips are secured and covered by protective polymer which not only acts as eye protector, but also allows lights to shine brighter and more beautifully.
Neon signs are safe, and eco-friendly, illuminating decor that appeals to a majority of soon-to-be-married couples and wedding planners. It comes in 5+ sizes between 50 and 150 cm in width and available in 9 stunning color options. Make sure you measure your space, and get the correct dimensions so that Zanvis Neon can handcraft the most perfect sign for your event, and send it to your door.
Love you to the moon and back neon sign looks stunning anywhere you put it, but I suggest installing this amazing lighting decor in the backdrop of your photo booth. Then, every picture you take will be filled with love, and happiness.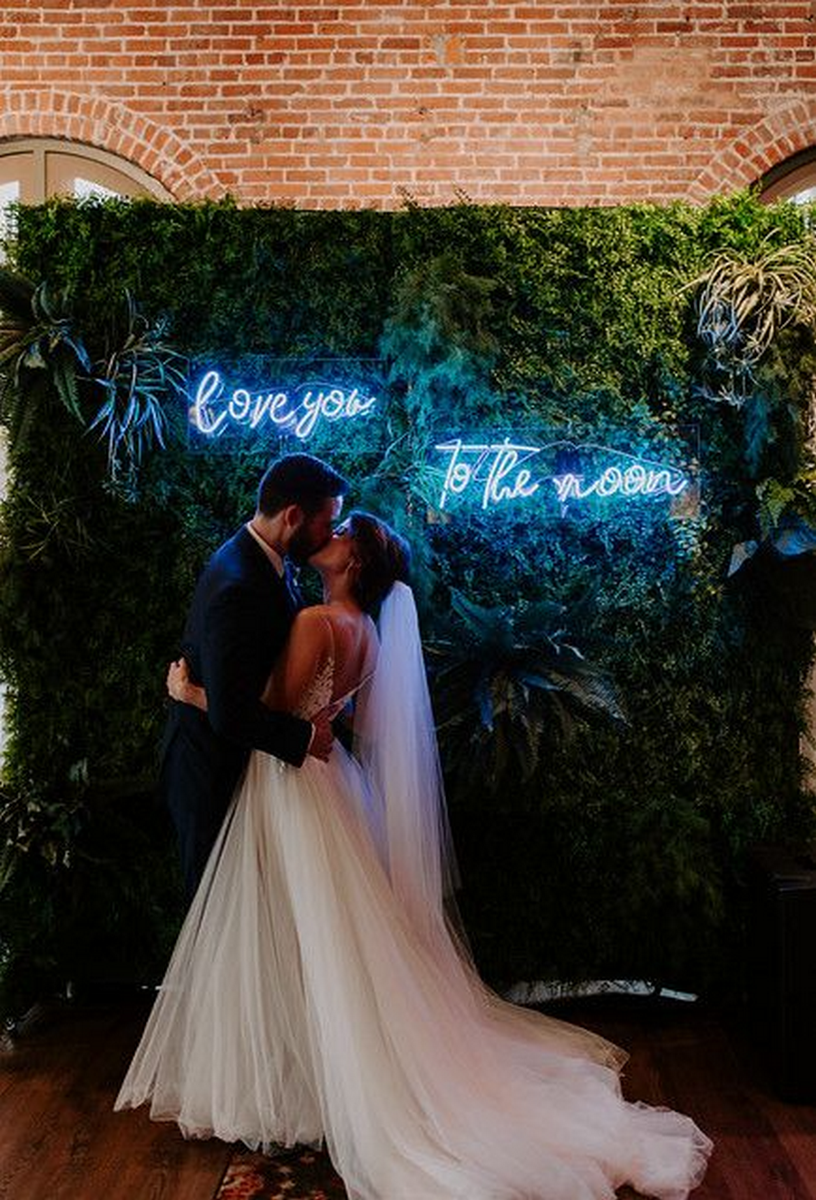 Love you to the moon and back neon sign
This couple decided to hang their blue-colored neon sign on their greenery backdrop. And as you can see, they absolutely loved it! This type of backdrop is gorgeous for an evening ceremony, you can share a passionate kiss under this magical light and see how the photographs pop later.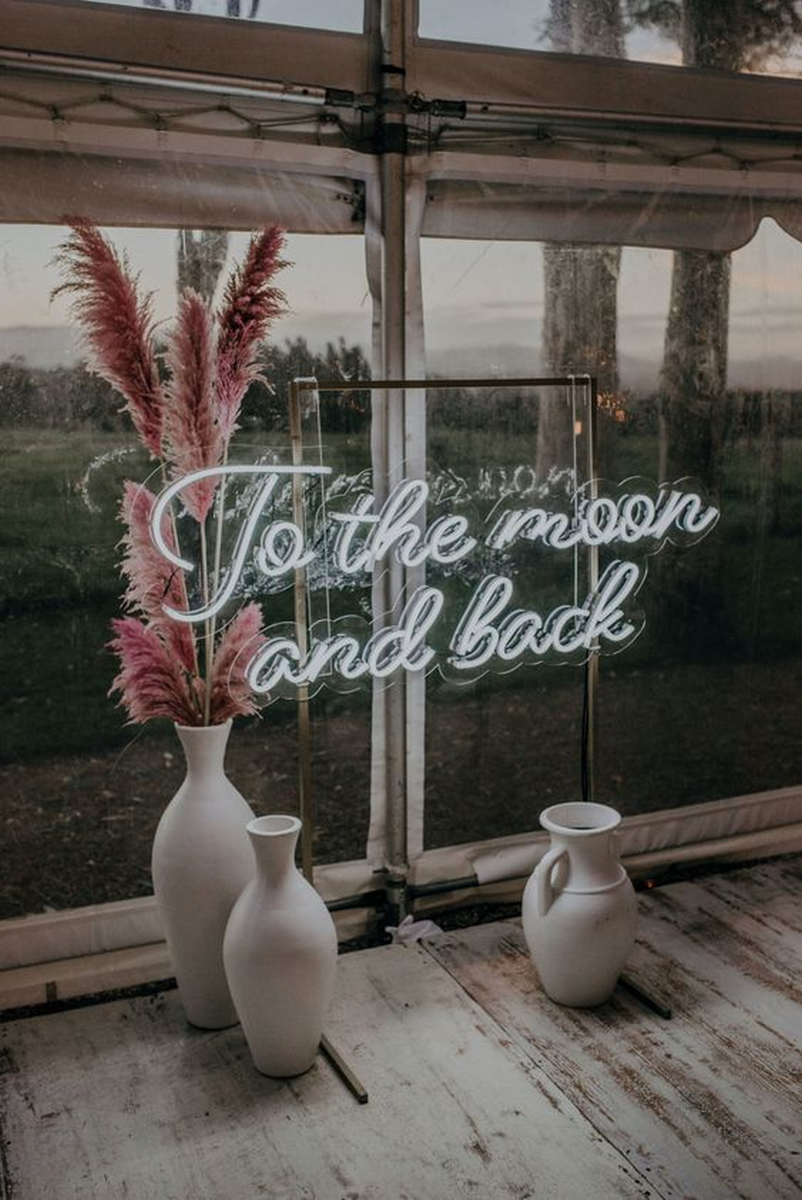 Love you to the moon and back neon sign
Planning for a bohemian-themed wedding? Adorn that pink pampas grass and square metal frame with glowing Love you to the moon and back neon sign. Day and night, this sign shines bright and grabs attention. Let the statement of your love be the center of attention! Let your story be heard and appreciated by your beloved guests.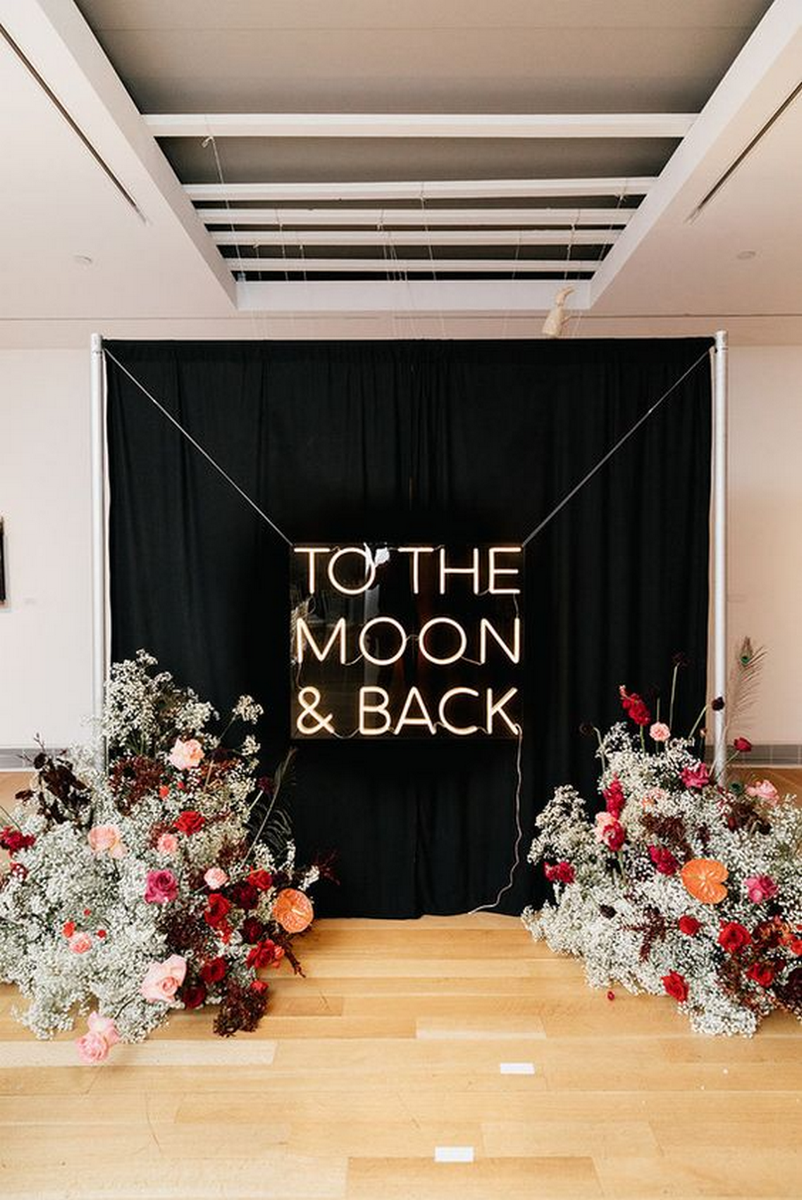 Love you to the moon and back neon sign
Love you to the moon and back neon sign in KIONA font is quite the look, isn't it? If you want to add accent to the neutral-colored wall where the ceremony will take place, this neon sign is definitely the one. The larger the backdrop, the bigger the neon sign. Make sure to measure the space beforehand.