Bride Tied Baby to Wedding Dress Train and Dragged Her Down the Aisle
This is just so wrong. Shona Carter-Brooks got married but had a very different idea of walking down the aisle - she would attach her newborn daughter to the train of her wedding dress and drag her as she walked down the aisle.
To illustrate: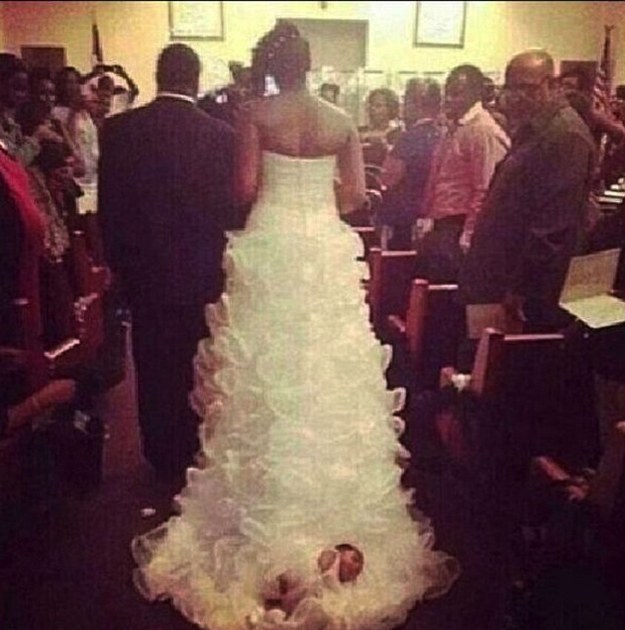 How crazy! And not in a good way. Unsurprisingly, she's come under fire for her decision. However, one of her Facebook friends reportedly wrote that seeing the whole thing moved her to tears. We guess there are all kinds of people in the world:
"Shona and Johnathan Brooks your wedding was super perfect from the groom and his men and you and your diva's baby you rock the gown and the princess tagging behind you it brought tears to my eyes. Regardless of anybody else dream your's came true. I loved it and thank you for inviting me," wrote Pamela Stone.
Needless to say, there are more angry people out there. Here are some of the
comments
:
'I am sorry but if I would have saw that I would have gotten out of my seat and taken that baby. That is truly dumb,' complained one person on the website Clutch.

Stupidity has no limit.
There are more comments on the issue, of course, to which the newlywed bride responded with:
Who paid yall for yall comments, none so watch us as we do us!

'Too bless for mess!! Thank God we aint no celebrities oops got fans, guess we is!

'Sign off Mr & Mrs Brooks!!'
Should this woman be reported to child protection services?
Read More Articles